"Loves Never Dies" has some things in common with MissFD's   previous album, "Monsters in the Industry".  They share the same tight, crisp sound production; the same integration of elements;  the same attention to detail on the tapestry of the musical background; and the same excellent packaging.  Yet, "Love Never Dies" is certainly not a "follow up" album in  the usual sense of the term.  It follows along the same evolutionary path, yet to my ears is nearly a different species altogether.    While "Monsters…" may have been a sort of catharsis for this talented artist (with a fine result for all of us, as well), "Love Never Dies" is sheer musical artistry.  Lyrics are a bit darker with a depth that belies the literal words and the music can be sensed, as much as heard,  behind them.  Though rather short at a bit over 27 minutes, this reviewer prefers quality over quantity.  The quality of "Love never Dies" is beyond doubt, as the music will reveal.
"Moment of Fade" has a futuristic intro which leads into a beat that is definitely dance-oriented. This beat caused an instinctive feeling of trepidation, which was, however, entirely swept away by the delightfully layered vocals that remind me very much of '80s pop, but are visceral and catchy. "…how did it all fall down?".   The vocals are the highlight of the song for me, though the background electronics are quite appealing.   They are in harmony and in counterpoint at seemingly the same time.   The electro effects add to the atmosphere of the song, particularly the vocal echoes.  The music deftly fades with a dark electro touch.
"Losing Ground" has a harder, more industrial feel.  Vocals are more discordant, with a slight distortion.  They are accompanied by an off-kilter percussion effect that is perfect for the theme of the song.  My favorite part is the chorus (for want of a better word) "The anxiety is overwhelming/I am losing ground/and it feels like I can't breathe" with a poignant piano type keyboard accompaniment.  The vocals then soar, before returning to earth. Suddenly there is a distorted skip, and an electro segment that reminds me of early Nine Inch Nails.
"Cry for You" has a very epic, heroic sort of intro, then a fast dance beat.  Vocals are faster on this song, alternating with electronic, echoing vocals and organ-style synth and very fast percussion effects.   The song slows down wonderfully with minimal synth and evocative layered vocals. ""But I couldn't save you/ just like I cannot save myself".  Then the pace picks up again.  There is a very catchy sort of "hook" to this song which entails a whole range of different types of sounds.  The backing keyboards are very effective, and I love the ending.
"Temporary Relief" is a magnificent instrumental.  Simply magnificent.   It immediately brought a sense of Steampunk to mind, with its dominant mechanical and rhythmic effects, that are oddly futuristic and archaic at the same time.  The keyboards impart a nice classical air, then the song moves into a militaristic, machine driven sequence that is almost a statement of philosophical contrasts.   "Temporary Relief" contains a veritable treasure trove of sounds, fine-tuned and assembled with artful finesse.  This is definitely one for headphones.
"Away from Here" is one of my favorite tracks.  There is a nice piano type opening, and very heartfelt and moving vocals.   The best part of this song is when it suddenly turns very dark, with discordant, uneasy keyboards and layered vocals that become almost sinister before backing down.    This is very reminiscent of Jill Tracy.   Great song.
"Negaverse" starts with vocals that bring Sinead O'Conner to mind. Then suddenly a firm electro beat accompanies vocals that turn rather robotic and superbly layered.   Suddenly, enchantingly operatic vocals emerge that become a perfect counterpart to a dancey electro segment   "…tear this system apart…"  I am in full agreement.   Electro DJ's everywhere need to play this!
"In Love and Neon" is another fabulous song.  Featuring slow, reflective vocals filled with as sense of longing and piano style keyboards, this song highlights MissFD's vocal versatility perhaps more than any other on this album.  There are a myriad of quaint electro effects that take more than one listen to fully ascertain.   The vocals turn from simple regret to a shadowy realm and then back again.  The song ends on a dark note,  with an echo of sheer finality "…and neon".
Whether the listener is an old Goth like me, or a fan of Darkwave, Electro, or even Steampunk, "Love Never Dies" should not be missed.   From dance to darkness, there is something here to please.   I have been thrilled to see MissFD's vocals progress through her works into a dominant element of her albums, and nowhere is this demonstrated more than here.  MissFD is my favorite type of artist: she did it herself, which is the defining hallmark of the underground.
http://www.facebook.com/MissFDMusic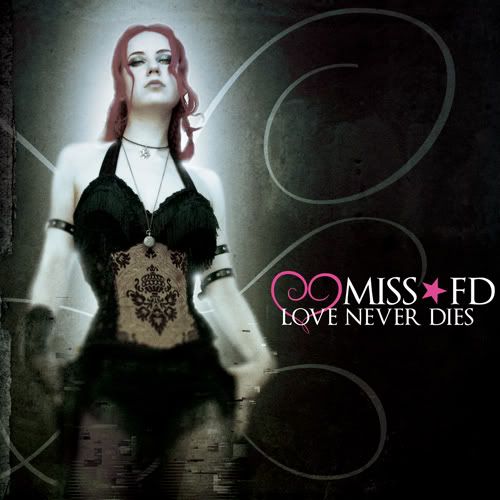 No comments
No Comments
Leave a comment