Eyajo is a founding member of the classic '90′s Deathrock band The Astrovamps, and I had the pleasure of interviewing him nearly 1o years ago.  A published poet and artist as well as a musician,  Eyajo has taken his music in a different direction with his new band, the excellent Black Heroin Gallery.
MCE: It is great to be interviewing you again! It is hard to believe that it was nearly ten years ago that I interviewed you and the Astrovamps. Has the past decade been pretty what you envisioned? Or did it take directions you never dreamed of?
E. December J. ––Wow, funny, but it's true what they say; "Time flies…" Yes a lot of what I'm doing now I did envisioned, but of course other things happened that wasn't what I expected. For example, now I'm becoming quite a prolific pin-up artist/illustrator. Whereas the last 20 years I concentrated mostly on music and poetry, taking it for granted that I could always draw, so I didn't bother with taking the art any further. Big mistake, and since 2010, art, music and poetry are of equal importance to me, so I work on all of them—at least a little everyday.
MCE:   How did Black Heroin Gallery come to be?
E. December J. ––Well it was always brewing in my soul, because I knew I had to eventually compose the music of the songs I was writing lyrically, I just kept hearing the music and after the "Astrovamps" disbanded in 2007 I knew that was the sign to go balls out and form BHG officially. Tony F. Corpse stayed on to drum for the project and Corwin originally sign on as bass guitar, but things didn't come together fast enough and he headed to Europe to play in another band, he's still a good friend.  A few months later I meant Emort and I liked the sound and style of his vocals. With Emort on board, I concentrated on composing the songs that now make up the album we're currently working on. Needless to say, since 2007 I've written a few albums worth of material, but some songs survive the writing process and some don't. BHG had a lot of false starts, musician came and went, but it wasn't until I decided to pick up a guitar, that the project finally began to take shape. I've always loved the raw guitar sound, but never made attempt, step out from behind the keyboards. So after 2008's brush with death (I had an infection in my stomach that almost killed me) I knew I had to reinvent myself as well as my music. Answer, play and compose on guitar. The songs I write just come out more naturally on guitar and I haven't looked back since that day. Time truly is short.
MCE:   Black Heroin Gallery has called themselves "grand saviors of Post Punk/Deathrock", which may be sort of tongue-in-cheek, and yet, on another level there is a lot of truth here. I was a huge fan of the so-called "Deathrock Revival", but many of us were disappointed when the focus turned away from the music and more towards 'status' in the 'scene'. I remember Karlheinz of Skeletal Family telling me that "revivals are for fashionistas".   At the time I did not fully comprehend the wisdom of this remark, now I certainly do. What are your thoughts?
E. December J. ––Yes, I can see their point, I do agree. People tend to get lost sometimes with the image and sometimes judge a band as maybe not being 'goth' or 'deathrock ' because they don't look or dress like the current fashion versions of those genres. Image is important to some degree, but to me it's like a lyric, illustration or chord progression I choose to create.   It changes to express a cornucopia of emotions. There are no rules in fashion, art and music and when you find yourself following too many rules, you loose your edge and your art becomes disposal.    I love the look of the 'death hawk', my last girl friend of a year ago, had one.    But that doesn't make a person or band instantly deathrock or goth.
MCE:  I have admired your work as a poet since I interviewed you the first time, and I found a copy of "Where Elfin Children Play". You have said that you always considered yourself a poet first, and saw music as a way to share your poetry with a wider audience. My first love was poetry, too, and I consider the lyrics in a song to be at least of equal importance to the music, and it chagrins me when I hear people say that they don't pay attention to lyrics and just "listen to the music".
E. December J. –– Why thank you, I'm honored you took the time to read it. It was my first and that book has gone through some re-writes and changes over the years. What survived from that book, will find its way into my complete body of work, "Legend of The Pumpkin Prince."  Oh yes, I would agree that the Lyrics are half the song and are very important. It's been said that the greatest songs tell a story, I truly believe this and that's why all my songs tell some kind of story. I've often found, that those who say lyrics aren't important, usually can't write them or understand them, besides even if you listen to just music, eventually you start to hear words.
MCE:   In another interview you mentioned that there have been occasions where you have had to explain or defend your involvement in the Gothic culture. I've had the same experience. The Library profession loves to talk about "diversity" , "inclusiveness", and not "judging" people, but as a Librarian I had had a lot of people in my field look askance, to put it politely, at my activities in the Gothic community. I find it amazing that so many people in our society are so unaware and uninformed about a culture that is over 30 years old, especially when information is easier to obtain than ever before. What do you think might be the reason for this?
E. December J. –– I would think in a way, its still misunderstood and considered to most people as a playful phase that someone goes through. Although we all know its much deeper than that. For those of us who have embrace the Goth culture as a lifestyle or more, tend to take for granted that most people believe it be evil, dark, anti-social, etc., but the irony is thousands of people fantasize about being part of it, in one way or another. I know this to be true from experience, from fans and non-fans, I've meant over the years. For myself, well I've devoted a life time to creating art in the goth/deathrock culture.
MCE:  Whatever happened to the hot blonde exotic dancer you ran into in Hollywood?
E. December J. –– Well, she ended up being my girlfriend for a little over a year, than she got tired of getting 'hit on' at the club, so she quit and moved back to Mississippi. She wanted me to come with her, but what the hell am I going to do in Mississippi? So we went are separate ways.
MCE:   The debut album from Black Heroin Gallery is soon to be released! Were there any challenges creating this album? Where can we get your CD, and What can listeners expect?
E. December J. –– Oh hell yes, there were a lot of unexpected challenges and 'what nots' in making this album, Too many to list in this interview, but I'll highlight a few of them. For starters, the "Vamps" had just disbanded and I knew I wanted to make BHG stand apart from the "Vamps." So I had to find my sound, which proved a little difficult at first, because I wrote with "Astrovamps" for 17 years and we got into a style and sound that became our own. I didn't want to copy the "Vamps", even though I didn't write the Vamp's music, I was the Lyricist. I found in the beginning of BHG I was writing music similar, but it was because I was writing lyrics similar as well. At first I was composing on keyboards, but I then decided, I got to really shoot for something different and since I've always been a fan of guitar—I made the decision to 'compose on' and play guitar. That change the direction of BHG for the better, I've been so excited by the results. So I then played around with tuning, amps, distortion, piano and approach lyric writing from three different styles. The result was a darker deathrock sound, a sound I wanted to do before, but never had the chance to, until now. The CD will be on a German label, I'll let everyone know who, when all those details are worked out. The listeners will get a few surprises, for one this is a darker and edger sound and there are extended mixes being made of a few songs by Johnathan Glass Devaney. He will also be mastering the album. So it should be haunting, creepy and raw.
MCE:   You have called yourself a minimalist, and this is certainly reflected in both your poetry and your music. Recently a local Poet in my area told me that "the most important aspect of a poem is the image you create". I think this is very true, because for me the most visceral and evocative poems and songs are ones that use a few words effectively. Sometimes it seems like there is too much "clutter" in a poem or a song that renders it incomprehensible. You are adept at avoiding this. What advice would you give other writers?
E:   December J. ––Yes, I agree, that statement holds true, for both poems and songs. The image you create is the most important part. I've always been a minimalist as a songwriter, poet and artist. That is what comes natural to me, you see a lot of artists, find themselves thinking, 'what's missing? What else can I put in? Should I redo this part or that part?' For me it's the opposite, when I write a song, I say to myself; 'Ok this is working, but I don't want anything to flashy in here, what else can I take out?' I love the strip down sound, and that's what I go for, I can't have a bunch of clutter going on in my songs, because I'm no longer hearing the song. In my songs I'm trying to take the listener from a beginning place, to middle place and finally to an ending place. And a bunch of musical and lyrical clutter can confuse or derail the songs journey.  Of coarse this doesn't always go over well with the other musician in the band, because they're all very talented, they want to give their best, but sometimes their best is too much for the song, so I tell them, 'that sounded great, but its just too much. Try something a little simpler.' Well as you can imagine, this results in arguments and ego bruising, but after all that has past, they get on board and give me some very incredible parts. My advice to songwriters would be this; try singing your song, with a guitar, piano or just your voice. If you don't like it in this simple form, then all the musical and lyrical clutter in the world won't make it a better song.
MCE:  Many people use the terms Deathrock and Postpunk interchangeably. Is there a difference? Along the same lines, many Deathrockers express disdain for Goths and Goth music, but I think this is a generational issue. To me, back in the early '80s Deathrock was Goth, so to me they are one and the same, though I fully understand that Goth music has become much more diversified now. Do you think there is sometimes too much divisiveness within the Underground? Does it ever seem to you that some people try to profit from this?
E. December J. –– There is a slight difference, but honestly to me as well as all the history on the scene, Deathrock, Goth rock, Bat Cave and Post Punk are the same, because at one point or another the bands that were listed as one of them, then later became listed as another one of them. I've seen it happen to a lot of well know bands, including my last band, "Astrovamps." In the early nineties Goth rock was hot, so since we didn't sound like "London After Midnight" or "Sisters of Mercy", the press called us Deathrock, then Years later when the German Labels started signing all the Deathrock bands, including "Astrovamps" who were a large part of the "Deathrock revival", it turns out no one wanted to be left behind, so now all the popular Goth rock bands were all the sudden Deathrock bands (they didn't change music, just labels). So yes, Deathrock, Goth rock, Bat cave and Post punk,  for the most part, are interchangeable.  Yes I do think people are to fixed on trying to put the bands in this place or that, while some people do try to profit from it. But if making a buck helps keep the underground alive, then I guess I'm not against them making a few.
MCE:   The debate about digital vs. physical CD's will rage on forever, it seems. For me, one of the great things about a physical CD is that a band can include artwork, liner notes, photos, and lyrics to give the listener a deeper understanding of the band or the music. I don't feel the same connection to a band through a download. As an artist, poet, and musician, how do you feel about this. In your books of poetry, what is the relation between the art and poetry? Does one come before the other?
E. December J. ––well the real thing has got my vote. I love all the art, band pictures and extras that come in the physical CD or Vinyl. In my books of poetry, the art and poems don't really come to me in any real order and sometimes the art and poem might be placed together, yet have nothing to do with one another.
MCE:  Is there anything else you'd like to add? Thanks so much for doing the interview. The next one won't take ten years!
E. December J. ––Sounds Great! Yes, just want to let everyone know that I got a "Green Light" to start pre-production on a vampire film I was writing. Of course BHG's music will be in the movie. Emort is currently writing his solo album and Tony has a new Project called; "Spectres of Nihilism." Other than that we're excited to play live with BHG.
Main site  
https://www.facebook.com/eyajo.joseph
"Black Heroin Gallery" band page 
http://www.facebook.com/pages/BLACK-HEROIN-GALLERY/185912908115929
Eyajo's  Black Ink Art page
http://www.facebook.com/pages/Eyajo-December-Joseph/412334958846117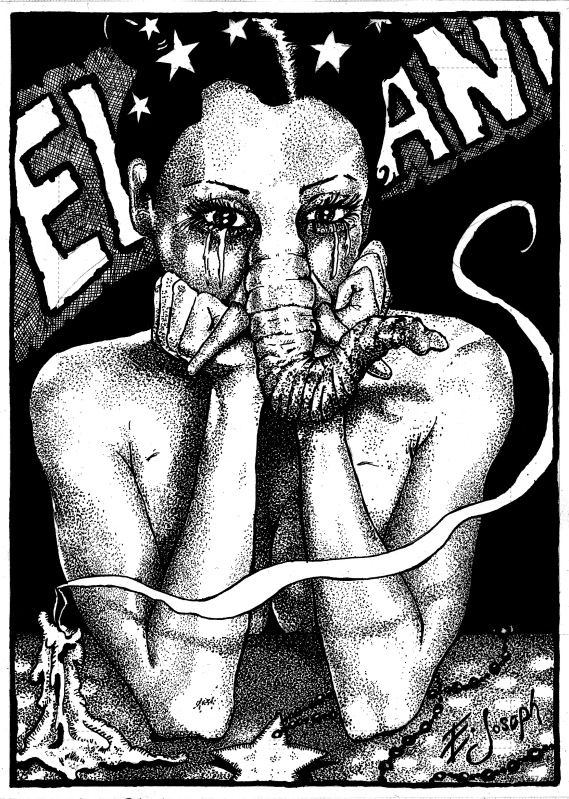 3 comments
3 Comments so far
Leave a comment