Interview with Jim Strange, of Jim Strange with the Proud and the Damned, Portland's  most up-and-coming band in the Gothic tradition.
MC:   How did the band form?
JS:  After years of being in other people's bands that went nowhere I decided it was time to take the bull by the horns and do my own thing. A friend heard some demos I was working on and offered me a show, I quickly put a band together and it's taken on a life of its own since then.
MC:  You have sort of similar foundations to a lot of horror punk bands. Yet you have gone in a vastly different musical direction. Was this a conscious decision, or just something that happened, so to speak?
JS:  I'm not really capable of doing things any way but my own, it's a blessing and a curse.I'm into a lot of old 50′s rock and roll where it's really all about the performance and how much sex and fury one person can throw into a song. Sun records era Elvis, Little Richard and Jerry Lee Lewis were big influences, particularly on The Devil is in Demand record. I really like the feel and intensity in those old records but never really saw myself fitting into the formalism of horror punk or rockabilly. I guess we took the same ingredients but mutated somewhere along the way.
MC: In my review of your last CD, I mentioned the "dark Western" sort of feel. I have always thought that the Old West was very Gothic, with the large dark and unknown spaces; the dichotomy of Badmen and Heroes, and the sense of fatalism that seemed to characterize the era. This is part of the Victorian era, yet many Goths gravitate exclusively towards the East, i.e. elements such as Poe, England, urban architecture and graveyards, not to mention fashions. Why do you think people tend to ignore the Gothic sense of the Old West?
JS:  The idea of the gothic or weird western seems to have been leaking into the larger culture over the past decade, I'm sure like with most good things it's only a matter of time before it's exploited and beaten into the ground.
MC:   This is related to the last question. Some people DO like the "Western" look of bands like, say, Fields of the Nephilim but few think of Country and Western styles of music as being relevant to Goth or dark music. You show that these can successfully be incorporated into Gothic music, just like many other disparate elements have been absorbed. This is pretty unique. How did you do it?
JS:  I drew inspiration from bands like 16 Horsepower and Myssouri who showed me the possibilities of mixing the two elements. Hearing Ghoultown for the first time was also an eye opener as they took the horror storytelling of a band like Mercyful Fate and put it in an entirely different context. After that I realized the sky was the limit.
MC: Do you you ever listen to Bluegrass? I think that Bluegrass has some very dark, fatalistic themes, but is somehow overlooked among the "anything-dark-is- goth" crowd. What do you think of Bluegrass? Are there other genres where you find the same thing?
JS:  I like any kind of music where the songs have a body count. Harry Smith's Anthology of American folk music has some pretty coldhearted songs on it. Gospel music is a favorite of mine, I really enjoy its mean-spiritedness. Those songs are frightening to me not just for their subject matter and theological implications but because there's a whole segment of society who think it's perfectly ok to sing about how i'm going to hell for the way I think and behave. Listening to it is like staring the beast in the eye.
MC:   What kind of music scene is in the Portland area? The city has always had sort of a reputation of an a Hipster haven, concurrent with a strong alt-Country scene. Is this still true? Has this been an impact on your music?
JS:  We tend to stick out like a sore thumb amongst the sea of flannels and beards, but are carving our own niche.
MC: You have mentioned Marty Robbins and Johnny Cash as being some of the Country antecedents to your music. (I am certain you have a copy of "Gunfighter Ballads and Trail Songs'!) Who has been influential from the Goth end of the spectrum?
JS:  Gunfighter Ballads and Trail Songs is a favorite for sure. On the goth end, I'm a huge fan of Peter Murphy, particularly his "Dust" album. Sisters of Mercy and Fields of the Nephilim are also favorites. On the heavier end we're big fans of Type O Negative and we're sad to see Pete go.
MC:  How is your new album coming along? When and where will fans be able to get it? Are you going to be touring?
JS:  New album is done! It will be called Pox Americana and will be out in a matter of months.
It's much darker and heavier than the last one with more of an urban tone to the songwriting while still retaining a dark western feel.  It'll be plastered across the internet soon, either free or on a "name your price" kinda deal. No plans to tour yet but it's definitely something I want to do and am actively working on.
MC:   What are some of your favorite books? What do you think of Stephen King's "The Dark Tower" series?
JS:  I really liked the first 3 Dark Tower books but he really lost me with Wizard and Glass. I want cowboys and death, not teen romance. I keep meaning to check out some of the new Dark Tower comics that have come out so I'll probably give the books another go.   Cormac McCarthy's Blood Meridian is essential. The Sea Wolf by Jack London is an all time fave. Anything by Joe Lansdale.
You Can't Win by Jack Black is a must read for anyone interested in what it was like to be a lowlife in the dying days of the old west, the same goes for Carl Panzram's autobiography. These days I mostly read crime fiction like Iceberg Slim, Jim thompson or James Ellroy. I like having my shitty worldview reflected back at me.
MC:  Is there anything else you would like to add? Thanks so much for doing the interview!
JS: Thanks for having me, the best is yet to come!
http://jimstrange.com/
https://www.facebook.com/JimStrangewithTheProudandtheDamned
http://www.reverbnation.com/jimstrangewiththeproudandthedamned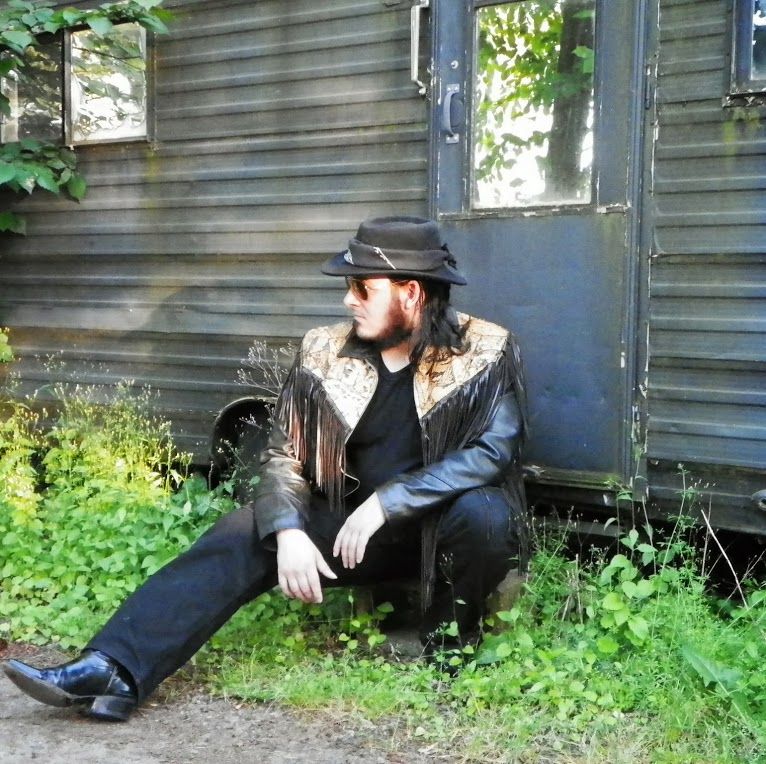 No comments
No Comments
Leave a comment