Ghostfire's new EP, 'Skeleton Coast' will be digitally released on September 30th, 2013.
The performing line-up is Andii on guitars/banjo, Al on drums,  AJ on lead vocals, Win on bass/backing vox, and Les on backing vox.  And for an extraordinary treat,  none other than the renowned Nathaniel Johnstone is featured on violin.    Well known in the Steampunk community,  Ghostfire deftly merges a panoply of elements, throwing in nautical flourishes,  doom-laden lyrics,  and creating a musical world where retro-historical atmospherics,  Steampunk sensibilities,  and dark humor abound.
"Skeleton Crew" departs from the well traveled currents a bit,  heading into the Spanish Main for a thoroughly Piratical jaunt.   Aye, indeed!     But rest assured that here lies no Ren faire Pub Crawl Chortling.  Far from it!   "Skeleton Crew" is musical fare fit for the Captain's table, as perhaps he entertains a beautiful  captive.
"Fire in the Hole"  is a stirring celebration of the Pirate ethos.  Percussion rolls like a broadside.   Guitar and bass are firm hands on the helm, balanced by the earthy banjo.  Violin weaves evocatively throughout, giving the song an heroic cast that admirably compliments the strong, clear vocals.
"Nothing Right Here"   begins with strong bass, powerful percussion, and then some very edgy guitar kicks in, reminiscent of a spaghetti western.    There is an ominous, brooding feel to the song, heightened by the vocals, which are alluring yet slightly dangerous.  The bass shifts like a treacherous sea, as the refrain kicks in with a distinctly deathrock-ish feel.  At about 3:43, this song really showcases the profound versatility of AJ's vocals.  High percussion provides perfect emphasis, then the song falls back into the groove all the way to a dramatic finish.
"Servants"  ramps things up a bit.  There is a fantastic galloping bass line, that reminds me of Ghosts Project.    Hard,  guitar lines contrast perfectly with the plaintive and haunting violin, which has a vaguely Gypsy vibe,  low and almost growling at times.   Vocals are crisp and incisive, yet very dexterous, with some fabulous layering.
"Griminsky's Soul" is sheer rollicking fun, with an undercurrent of strangeness.  Klezmer meets Cabaret, which inexplicably dives into disquieting interludes at  times.   A spot of male backing vocals is a nice touch.  Percussion drops in with artillery precision,  nicely balanced by high violin.  About 2:49, the vocals are just magnificent. Then the guitar ends the song with an eerie clockwork flourish.
"Skeleton Crew" is a true gem of an EP, that shines in ways too numerous to recount.  The production is  superb.   Everything is very tight and precise, which I really love.  One of my pet peeves is sloppiness,  and there is none of that here!  The vocals are smooth yet very dynamic.   The arrangements are just fabulous, and each band member  obviously understands exactly what each song is striving for.
I also love  this EP because Ghostfire does not fall into the trap of falling back on stereotypical elements, i.e. Steampunk or otherwise, to appeal to a specific demographic.  Excellent music will have an audience regardless, and it is very refreshing to see bands who understand this.  A bit different from "The Tyburn Jig", this EP is a wonderful complement to that album, and shows what Ghostfire can do. I look forward to hearing more.   I have had the pleasure of seeing Nathaniel Johnstone perform in concert, and hopefully one day I will see Ghostfire as well, in all their Piratical glory!
http://www.ghostfiremusic.com/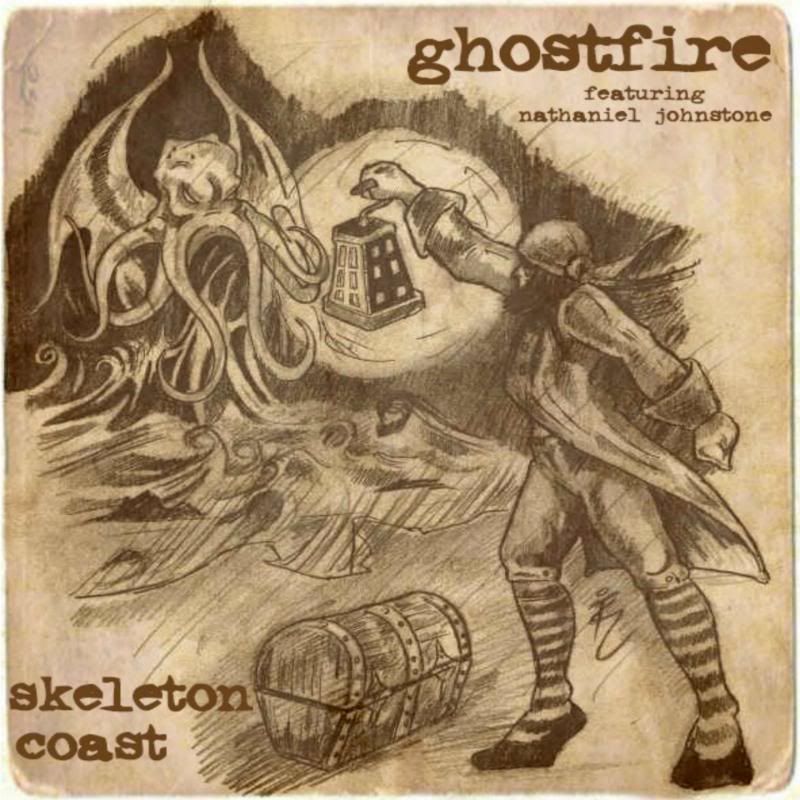 No comments
No Comments
Leave a comment