Following up their excellent debut album Boot Hill Hymnal, Heathen Apostles draw their musical six guns, and stalk once more through haunted graveyards, dangerous streets, and debauchery-filled saloons. Fire to the Fuse continues the epic Western Gothic  journey, and demonstrates that Heathen Apostles are musical  desperadoes  to be reckoned with.
Fools Gold is a rousing, tumultuous frontier anthem. Rollicking guitar and galloping percussion accompany Mather's exquisite vocals. The fiddle adds a magnificent touch.
Drowned in Trouble features very evocative fiddle and powerful guitar. There are a lot of elements here that are blended together seamlessly and add up to very hard hitting song. The rhythmic percussion and lonesome picking makes me want to take a train to Johnston Country, Montana to see if anyone needs another hired gun. The layered vocals are eerily effective.
Yveline changes the pace a bit.  Rolling like a rock n' roll freight train through the dangerous darkness of the musical plains,  the song rides on fierce percussion, lethal guitar, and razor sharp fiddle.  Mather's vocals are as smooth as deadly as Bat Masterson's six gun clearing his holster.
Fist City opens like a dirge, slow and dark.  Bleak banjo and grim  fiddle stalk along with ominous percussion.  Mather's vocals are like the snick of the hammers being drawn back on a 10 gauge stage gun. "If you don't want to go to fist city, you better detour around my town". The finale is fast and furious.  Great song!
Evil Spirits combines Rio Grande grit with Celtic fire. Hard acoustic guitar and rampaging fiddle hit the trail at breakneck speed, as percussion rapid fires like an 1873 Winchester. Mather's vocals are forceful, and the backing male vocals are superb.
Looks are Deceiving is a delightful old-time hoedown with an edge like a straight-razor pulled from a shotgun boot. The fiddle and banjo  rambunctiously ride with fast percussion and some fine picking. Vocals are smooth and even a little Bluesy.
Fire to the Fuse is low and baneful, a perfect tapestry of direful sound. Percussion beats a doom-laden tattoo, evoking boot heels stalking down an empty main street. Guitars and discordant fiddle weave a sinister cacophony around Mather's exquisite vocals. This song demonstrates her versatility quite well.
Death's Head continues the dangerous journey into a neo-western heart of darkness. Dark and malignant guitars team with cutting fiddle in an unholy union as Mather invokes the terrifying entities that preside over a pitiless destiny.  Screams of terror accentuate the driving percussion, as doomy bass lays down a positively Stygian undercurrent. About 2:30 there is a superb  and some fine rock guitar.
Bang Bang is perhaps my favorite song on the album. Infectious percussion and guitar vie with  edgy fiddle, as Mather's sultry vocals tell a tell of loss that somehow resonates with an odd feeling of optimism. There is a touch of vaudeville here, and  guitar has a brief gypsy flourish. The song is evocative of an old saloon ballad, as the  fiddle deftly weaves a haunting melody.    

Measure of Time is a bit more contemporary, with mournful vocals and plaintive guitar. The fiddle is mournful, with emphatic, well-timed percussion. Backing harmonies are fabulous, balanced with a powerful guitar solo at about 3:35. This is a very moving and rueful song.
Without a Trace makes me want to get up and dance. The high, lonesome fiddle is perfect, with martial percussion and rollicking guitar.  Vocals are dark, but they strike true. This song has a  little bit of  Celtic, a little bit of down-home, and a whole lot of sheer energy. 

Before You Go is in a slower vein with a rather macabre look at a "love that's run astray". Smooth and languid, the song has traces of a calypso feel. Romantic, meandering strings vie with suave guitar to accompany velvet vocals that incorporate some great harmonies. "Before you go and wish me dead, dear, choose the plot where I will lay".
The traditional Lily of the West is the perfect song to close the album. Spirited, boisterous, yet cynical and dark, there is some fine picking here and truly infectious rhythms. The Heathen Apostles turn this classic into a boot hill ballad in their finest tradition.
What more can one say about Fire to the Fuse?  The music truly speaks for itself.  The production is fantastic.  The Heathen Apostles seamlessly weave their aural artistry into a well-crafted album filled poignancy as well as  well as corral fisticuffs.   The Heathen Apostles are clearly the finest musical guns under the Big Sky. I feel as though if I were to walk through the doors of the Oriental, I'd see them leaning on the bar, steely eyed. with a guitar as close at hand as a Peacemaker.   For all comers, Fire to the Fuse will be most pleasing the ear. Give it a listen.  You're a Daisy if you do.  And keep one eye on those dusty plains. The Heathen Apostles will be back.
http://heathenapostles.com/site/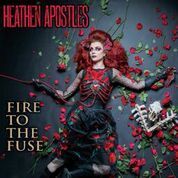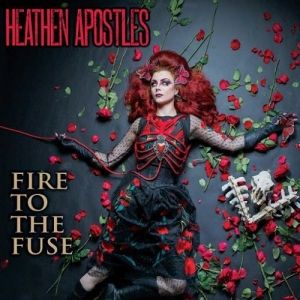 No comments
No Comments
Leave a comment