This review is long overdue, and my apologies to the band.   Though Burning City was released over  two years ago,  I wanted to give a proper nod to this fine work.  The project of Ellia Bisker,  New York City's Sweet Soubrette has been called a "ukulele-powered indie rock band", but Sweet Soubrette is much more than that.
Rock, Paper, Scissors begins with rather languid piano, balanced with heavy percussion and wistful violin. Vocals are smooth and reflective.  Suddenly the song erupts in an explosion of Broadway-style magnificence. Violin and wonderfully discordant, layered vocals dominate the last part of the song before the chorus ends with a final boisterous fling.
Charlatan features infectious vocals, horns, and mesmerizing piano.  A very catchy melody and rambunctious percussion contrast with the story of a fortune-teller who "knows who they want to hear from/what they long for her to tell"  A girl who is driven by a compulsion, but  "they think she's a scam/but she's no charlatan/she cannot stop til she is done".  The vocals are very complex, with layered harmonies that bring the Beatles to mind.  The arrangements here are  resplendent, and simply pervade the listener's senses. Each replay will reveal more discoveries.
Live Wire has a fabulously Big Band feel juxtaposed with very contemporary vocals. The song starts evocatively with descending guitar and bass alongside haunting violin. Trumpet and trombone are smooth as ice, melding well with the militaristic percussion and fabulously cadenced vocals.  Piano is sharp as diamonds. The overall effect is as deliciously dangerous as "little Miss third rail" can get.

Burning City is an unforgettable song that begins with a sense of  whimsy that proves to be far deeper than it seems.   I am reminded somewhat of  the band Pretty Balanced.  The lyrics here are phenomenal. "You knew you shouldn't look back /but the past it snagged you like barbed wire"  Measured piano and plucked strings that proceed to meander desperately through vast musical  gardens,  along with mesmerizing vocals and  heart wrenching violin.

Sweet Time is a romantic paean that begins simply with slow ukulele, but rises to a plateau of  regal horns. The bass is prominent here, with a swinging cadence that has a sort of Victorian air, magnified by the abrupt percussion.  The violin interludes are wonderfully evocative  and the vocals are sincere and heartfelt.
Next is the rollicking Just Your Heart. Playful and upbeat, there is this song reminds me of such disparate elements as Calypso, Swing, 70′s Rock, and '50′s Pop very masterfully combined.  Bass driven, with fun horns and hand-claps, the vocals are nicely layered on the chorus. The sharp but smooth violin reminds me of certain Cat Steven's songs, while horns suddenly bring Chicago to mind. Play this at your club and the dance floor will be full in no time.  

Be My Man is another song where bass is featured prominently. I love the high hat percussion and and boisterous horns.   Vocals are earnest and evoke Anita O'Day, singer for Gene Krupa's orchestra. Backing vocals are subtle but effective. The song also gives me a slight '70′s R& B feel.  

Opening with ukulele and wistful vocals,  Port in a Storm then launches  into a wonderfully Beatle-esque rhythm, with heavy percussion and music hall swinging  bass. An interlude with  a bit of hypnotic, waltzy violin  frames the strong, yet introspective vocals.         

What's My Desire? starts with slow and forlorn. Then the song rises to an almost operatic crest, with vocals teemed with resignation and acceptance.  Bass, percussion, and horns soar magnificently.  The violin weaves a soulful dirge around the vocals, which are sad, yet resolute.  "Yes I'll let you read me I'll keep nothing secret/
But all my love letters are forged."  This is a very insightful song addressing the contradictions inherent in us all.   

Homing Pigeon is the perfect song to close the album. Ellia's fine, clear vocals are showcased admirable on Homing Pigeon.   Poignant, crisp  ukulele is accompanied by doleful, yet quite edgy violin. "Are you guided by a vision of what you love the most/  Like a homing pigeon or a restless ghost…"
Sweet Soubrette is one of those rare bands who can transcend genres without sounding contrived or artificial.  Ellia Bisker's voice is one of the best, and her lyrics are second to none. She successfully tackles the frustrations  contradictions of everyday life without resorting to the common platitudes.  Themes range dark to hopeful, many times in the same song.  The arrangements are simply excellent. All elements of the band flow together seamlessly. I am particularly impressed with the way that Sweet Soubrette effectively incorporates  their horn section. The various genres mentioned in the review are masterfully amalgamated as a means to a musical end, not the end itself.   Like the band itself, Burning City is filled with originality and purpose.  I hope we hear more from Sweet Soubrette.    

http://sweetsoubrette.com/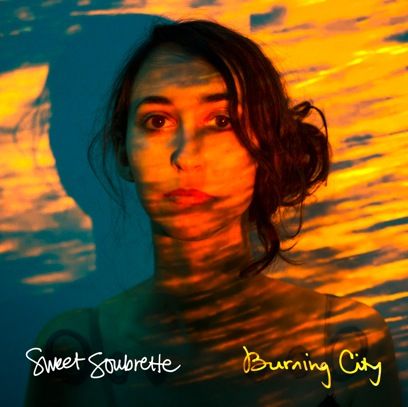 No comments
No Comments
Leave a comment